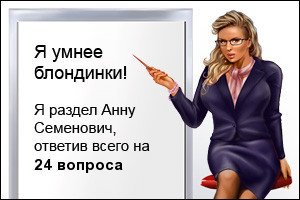 Кто умнее Семенович? ("Who's smarter than Semenovich?") is a web-based game of strip trvia featuring Анна Семенович (Anna Semenovich). As players correctly answer multiple choice questions, the image of Anna loses pieces of clothing until she is down to her underwear. If a wrong answer is given, a piece of clothing is added until she is fully clothed. The game ends once she has stripped or when three wrong answers are given when she is fully clothed.
Ad blocker interference detected!
Wikia is a free-to-use site that makes money from advertising. We have a modified experience for viewers using ad blockers

Wikia is not accessible if you've made further modifications. Remove the custom ad blocker rule(s) and the page will load as expected.